Welcome to the Fargo-Moorhead Area!
City/Neighborhood Info | Crime Data | Transportation | Health Care | Senior Living | Academics | Culture & Recreation | News Stations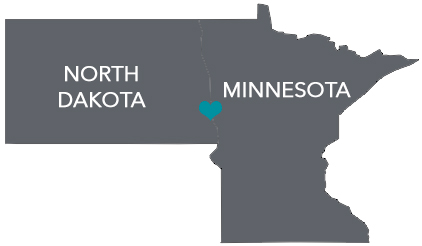 The greater Fargo Moorhead area encompasses the following cities in North Dakota and Minnesota: Fargo, ND, Moorhead, MN, West Fargo, ND, and Dilworth, MN and has population of over 224,000. It extends into rural communities in a 60 mile radius including: Argusville, ND Barnesville, MN, Casselton, ND, Glyndon, MN, Harwood, ND, Hawley, MN, Horace, ND, Kindred, ND and Mapleton, ND.
Cost of living, climate and demographic information can be found on the the GFMEDC site - liveinfargo.com or the Fargo Moorhead West Fargo Chamber of Commerce
Air Service
The area is served by the Hector International Airport with direct air service to Atlanta, Chicago, Dallas, Denver, Las Vegas, Los Angeles, Minneapolis-St. Paul, Nashville, Orlando-Sanford, Phoenix-Mesa and St. Pete with service by Delta, United, Frontier, Allegiant and American Airlines.
The Fargo Jet Center also offers charter flights.
Mass Transit
The metro area is served by the MAT Bus (Metro Area Transit) with 24 fixed routes linking riders to employment, education, healthcare, entertainment and more.
Pay Per Service
The area has several cab companies and both Uber and Lyft operate in the area.
The Fargo Moorhead area is home to some of the country's top healthcare institutions, offering high quality care with numerous specialties including: Sanford Children's Hospital - a Children's Miracle Network Hospital and the Roger Maris Cancer Center.
With great health care facilities nearby, many seniors choose Fargo Moorhead for their retirement and there are several senior housing options are available in the area.
The Fargo-Moorhead-West Fargo area is home to some of the best schools, colleges and universities in the country.
Public Schools | Private Schools | Colleges
Below is a list of area schools and some brief facts about each district. For more information, visit each school website by clicking on its name.
Barnesville (MN) Public School
Communities: Barnesville, Baker, Comstock, Downer, Rollag, Wolverton, MN
Facilities: Elementary School located in Barnesville comprised of Grades K-5; High School also located in Barnesville holding Grades 6-12.
Central Cass (ND) Public School
Communities: Casselton, Chaffee, Embden, Lynchburg, Amenia, Wheatland, Prosper, Absaraka, Durbin & Mapleton, ND (Note: Mapleton has its own district with only an elementary school)
Facilities: One location split into three sections: Elementary: Pre-K-Grade 5; Middle School: Grades 6-8; High School: Grades 9-12
Dilworth Glyndon Felton (MN) Public School
Communities: Dilworth, Glyndon, Felton, MN
Facilities: Two Elementary Schools (Grades K-5)- one in Dilworth, one in Glyndon; Middle School (Grades 6-8) in Dilworth; High School (Grades 9-12) in Glyndon
Fargo (ND) Public School
Communities: Fargo
Facilities: 16 Elementary Schools (K-5); 3 Middle Schools (6-8); 3 High Schools (9-12); 1 Alternative High School
Check Your Address for Boundaries
Hawley (MN) Public School
Communities: Hawley
Facilities: Elementary (K-6) & High School (7-12) are in separate buildings in Hawley
Kindred (ND) Public School
Communities: Kindred, Davenport, Hickson, Leonard, Oxbow & Walcott.
Facilities: Elementary (K-6) & High School (7-12) are in separate buildings in Kindred
Moorhead (MN) Public School
Communities: Moorhead
Facilities: 5 Elementary Schools; 1 Middle School; 1 High School
Northern Cass (ND) Public School
Communities: Argusville, Arthur, Gardner, Grandin and Hunter, ND
Facilities: One School centrally located along Cass County 26 housing Grades K-12
Richland 44 (ND) School District
Communities: Abercrombie, Christine, Colfax, Galchutt
Facilities: Elementary School (K-6) in Abercrombie; High School (7-12) in Colfax
West Fargo (ND) School District
Communities: Harwood, Horace, West Fargo
Facilities: 14 Elementary Schools (K-5); 2 Middle Schools (6-8); 2 High Schools (9-12)
Check Your Address for Boundaries
Private Schools
Dakota Montessori School
JP II Catholic Schools Network
Goddard School
Grace Lutheran School
Oak Grove Lutheran School
Park Christian School
St. Joseph's School
Two & Four Year Colleges
Concordia College
Minnesota State Community & Technical College
Minnesota State University Moorhead
North Dakota State College of Science
North Dakota State University
Rasmussen College
University of Jamestown
University of Mary - Fargo Campus
For the Whole Family
Historical Attractions
Sports & Recreation
Performing & Fine Arts
Shopping